Modules
The complete set of modules for all your business needs
Modules
Streamline your business with ease, reduce errors, maximize efficiency
Click to jump to module

Lead Generation & Management
NEX integrates directly to your website to automate data entry for leads (companies, contacts, notes, etc) and/or opportunities
Use campaigns with analytics to generate leads
Track the progress of every prospect in real-time and identify areas for improvement within the sales funnel
Efficiently Manage Your Day-to-Day
Manage your customers from prospect to order in one continuous workflow

Configure your user and customer dashboards to perfectly align with your everyday requirements
Sales Forecasting & Analytics
Utilize real-time data to create accurate forecasts and drive predictable revenue

Track activities and conversion rates to offer targeted coaching and achieve unprecedented success

Operational Excellence Guaranteed
Control your process, and ensure strict compliance to your standard operating procedures, with the NEX workflow
Automate emails, tasks, and approvals to ensure users stay on track
End to End
Eliminate data re-entry with one continuous process from quote to invoice
Multiple shipments, purchase orders, invoices, and/or payments per sales order
Automatic commission calculations
Reports & Analytics
Comprehensive shipment tracking report for monitoring every order's shipping status across all customers

Detailed invoicing and payment reports provide full visibility at a micro (product) and macro (sales order, customer, etc) level

Commission reports to gain insight into performance and compare key metrics across sales force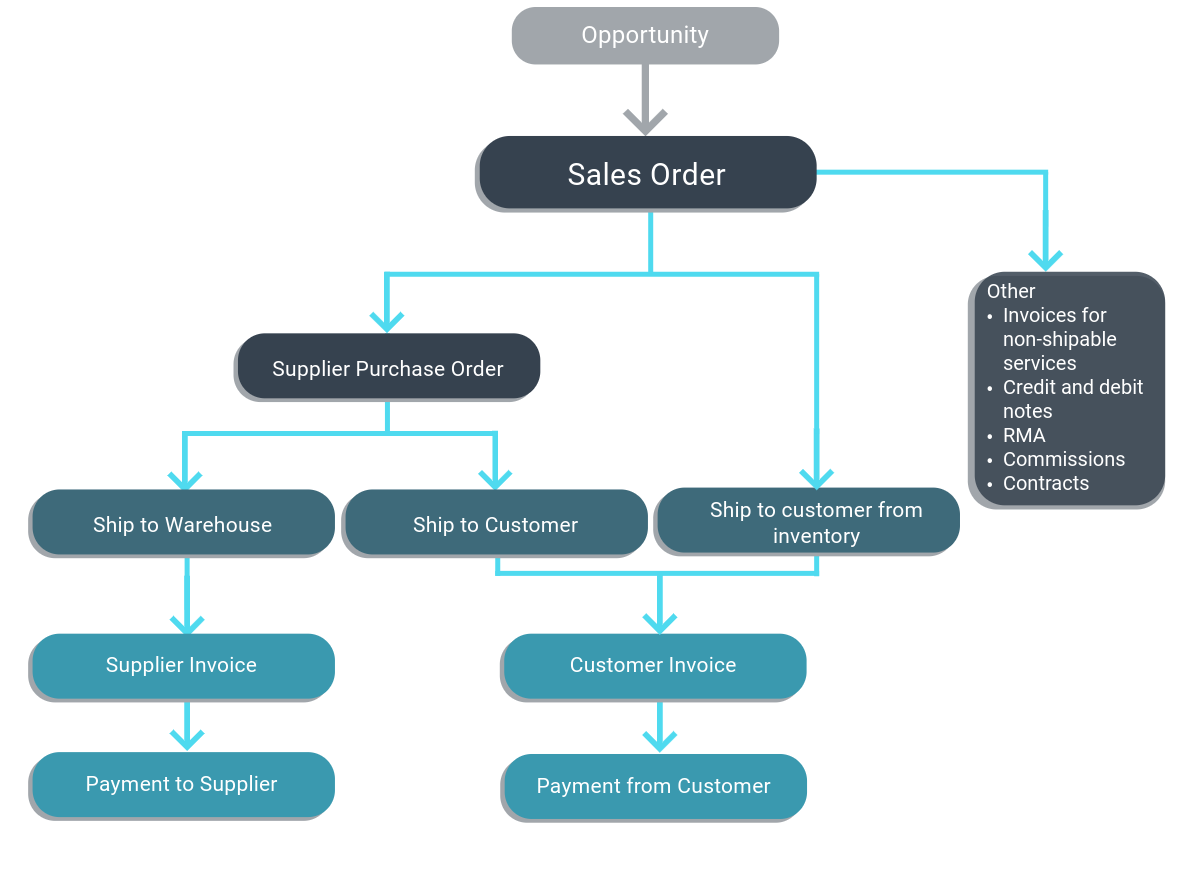 Real-Time Inventory Tracking
Monitor stock levels and access detailed inventory data including sales history, transfers, adjustments, cost, and suppliers
Financial report designed to obtain inventory levels and cost for any date
Multi-Warehouse Control
Track lot numbers, serial numbers, expiry dates, and more, across multiple warehouses
Create and track transfers between warehouses
Full visibility of inventory currently on order, in transit or in each real or virtual warehouse
Opportunities & Sales Orders
Allocate inventory to opportunities and sales orders, to optimize order processing and never run out of stock
Manage allocations using the inventory report and track each product through the order process
Customer Product
Delivered products or software are registered to your customer ("customer product") and include all the information you need to be ready for support
Eliminates data re-entry, when a ticket is created, the details are taken from the customer product, including warranty, delivery, manufacturer, service technicians, and support contracts
Tickets
Required information is automatically pulled from the customer product and company profile
Define your own ticket types with currency and pricing (regular, overtime, holiday), to ensure proper invoicing
Configure the workflow to meet your business process and automate task creation, internal/external communications, reminders, customer approval, and more
Create quotes, sales orders, and invoices directly from the ticket page with one click of a button
Statistics & Reports
In-depth service reports and statistics to gain key insights and make real-time business decisions
Compare actual response and resolution times vs service level agreement required times to keep your team on track
Monitor actual vs billable hours to maximize profitability
Always have a clear view of who is doing what and better manage the service teams' workload
Invoice multiple service tickets on one invoice with one click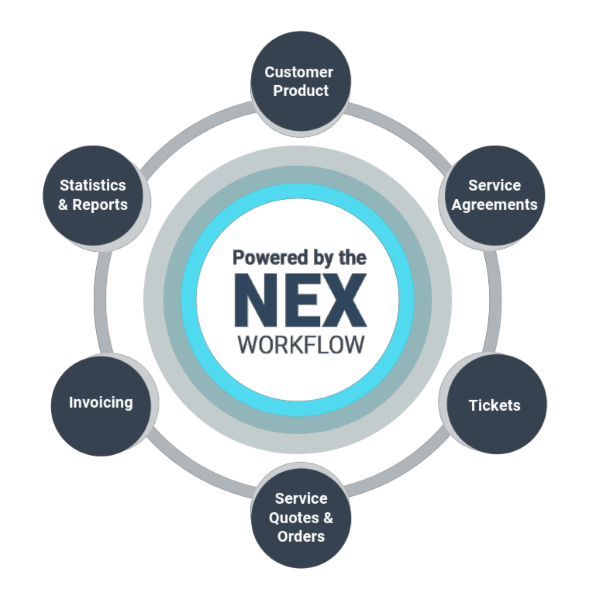 Empower your customers with the Customer Portal to give your customers the ability to effortlessly create, view, and manage tickets
Invoices & Payments
View, manage, and download invoices for record keeping
Track payment amounts, dates, and make payments*
Tickets
Create, view, and manage all service tickets
Complete history of all tickets, communications, resolutions, and more
Initiate
Create directly from the sales order with one click
NEX automatically creates the RMA with the required customer and product information
Enter additional required details and send it to your customer with the click of a button.
Complete Information
Track return reasons and shipments

Log received condition

Record adjudications such as returns, repairs, and replacements

Create customer credits
Analytics & Insights
Leverage the report to generate insights of your returns and drive business decisions
Connect Sales, Purchasing & Manufacturing
Request productions and/or allocate manufactured units directly from the opportunity and/or sales orders
BOM purchase requests are listed for all productions to consolidate POs and reduce procurement costs
Products, Costs, & BOM
Products are preconfigured with parts and bill of material (BOM) required for manufacturing and are automatically loaded when a production is created, including quantities available/shortages
Full visibility of costs from parts to pre-configured production cost types
Configure and customize detailed work orders and quality assurance sheets for each product
Production Planner & Report
Use the production planner to manage open manufacturing requests and efficiently consolidate requests, schedule, and generate production runs
Production report provides details of all current and past productions to drill down on specific manufacturing details
Your NEX Move for Business Excellence!
Unlock the full potential of your business with NEX, the all-in-one solution designed for seamless growth and efficiency. Whether you're a small business aiming for agility or a large enterprise seeking scalability, NEX offers the tools you need to accelerate your operations.